Find the Best 3D Printer for Your Needs
Introduction 
As 3D printer gains in popularity these days, how to choose the right machine for ourselves turns out to be a significant question. In this buying guide, we will provide you helpful information and recommendations to help you choose the right 3D printer for your needs. It includes various factors that matter when picking the best 3D printer for anyone who want to buy it. Under the guidance of this passage, you will be able to get your ideal machine by yourself. Now, let's get started!
1.

What Do You Need to Print
Before delving into the world of 3D printers, it is crucial to identify your specific printing requirements. Consider the following factors to determine the most suitable and Best 3D printer of 2023 for your needs.
1.1 Object Size and Complexity
Consider the size and complexity of the objects you intend to print. Are you planning to create small prototypes, intricate models, or large-scale functional parts? Understanding the scale and intricacy of your desired prints will help you choose a printer that can accommodate your needs.
1.2 Purpose of Printing
Identify the purpose of your prints. Are you primarily printing functional parts, artistic sculptures, architectural models, or educational prototypes? The intended use of your prints will influence your choice of printer and the materials you should consider.
1.3 Material Compatibility
Different printers have varying material compatibility. Some printers are versatile and can work with a wide range of materials, while others have limitations. Ensure that the printer you choose is compatible with the materials you plan to use for your prints.
2.

Types of 3D Printers
There are several different types of 3D printing technologies available, each with their own strengths and weaknesses. Considering the technology that best aligns with your needs is key to choosing the right printer. Here are the most common types of 3D printers:
2.1 Fused Deposition Modeling (FDM)
FDM is the most common and affordable 3D printing technology. It works by heating thermoplastic filament to a semi-liquid state and depositing it layer-by-layer to build an object. Basic machines start under $200 while high-end FDM printers offer excellent print quality and large build volumes.
Advantages of FDM 3D printers include:
- Low material costs - PLA and ABS filament is inexpensive.
- Wide material selection - Hundreds of plastics available.
- Large build volumes possible - High-end machines allow printing very large objects.
- No harsh chemicals needed.
Disadvantages include:
- Lower resolution - Layer lines visible on prints.
- Weaker dimensional accuracy - More prone to warping and shrinkage issues.
- Slower print speeds - Limited by filament extrusion rate.
- Weaker material properties - Anisotropic, porous prints.
Best for: Prototypes, toys, models, tooling, large objects, and concept models. The wide variety of materials makes it versatile across many uses.
2.2 Stereolithography (SLA)
SLA 3D printing uses an ultraviolet laser to selectively cure liquid plastic resin layer-by-layer until an object is formed. SLA produces extremely high detail prints by utilizing liquid resin pools instead of extruded filament.
Pros of SLA printing:
- Excellent resolution - Print layers as low as 10-25 microns for smooth surfaces.
- Great dimensional accuracy - Minimizes warping and shrinkage issues.
- Complex geometries easily printed - Great for organics.
- Smooth surface finishes from resin.
Cons of SLA:
- Resin is more expensive than FDM filament.
- Smaller build volumes than FDM.
- Resin requires handling precautions.
- Some post-processing like support removal and curing.
Best for: Detailed miniatures, jewelry, dental, medical applications-great technology where precision is critical.
2.3 Digital Light Processing (DLP)
DLP 3D printing also utilizes photopolymers but instead of a laser, DLP uses a projector screen to flash images of each layer into the resin. This allows printing entire layers at once instead of tracing which speeds up print times.
Pros of DLP:
- Very fast print speeds - Prints layers simultaneously.
- Smoother surface from lack of laser traces.
- Low cost resin printers available.
Cons:
- Also has limited build volumes like SLA.
- Requires handling liquid resin safely.
- Resin is relatively expensive.
Best for: Fast printing of high detail and precision parts. It is excellent for makerspaces due to speed.
2.4 Powder Bed Fusion (SLS or SLM)
Powder bed 3D printers use a laser or heat source to selectively fuse powdered material layer-by-layer until completing a part. No support structures are required since unsintered powder provides support. Most systems use plastics like nylon but metal powders are also possible for this kind of printer.
Pros:
- Excellent mechanical properties - Fully dense parts with isotropic properties.
- Very high accuracy and detail.
- No required supports - frees up design space.
- Variety of materials like Nylon, Aluminum, Titanium, Stainless Steel.
Cons:
- Very high printer and material costs.
- Limited material selection.
- Small build volumes.
- Powder handling precautions required.
Best for: Functional prototypes, end-use parts with high performance requirements. These 3D printers are excellent for metal printing.
2.5 Material Jetting
Material jetting printers deposit tiny droplets of photopolymer material to build a part. The materials quickly solidify into place, allowing complex shapes. If it is required, support material can also be printed.
Pros:
- Exceptionally high detail - layer resolutions down to 13-25 microns.
- Surface finishes and tolerances rival injection molding.
- Allows gradient blends between two materials.
- Wider material selection than SLA.
Cons:
- Very high 3D printer cost.
- Materials expensive compared to FDM.
- Small build volumes.
- Moving parts can require maintenance.
Best for: Highly detailed plastic or wax casting patterns. It is great for medical and dental applications requiring precision.
2.6 Binder Jetting
Binder jetting sprays a liquid binding agent onto thin layers of powder to selectively harden areas of each layer. Metal, sandstone, ceramic and other materials are possible.
Advantages include:
- Full color printing possible.
- No support structures required.
- Wide material selection.
- Relatively fast operation.
Disadvantages are:
- Rough surface finish requiring infiltration.
- Small build volumes.
- Limited precision compared to other printers.
Best for: Full color prints. Printing large metal objects like tooling.
3.

Various choices for your creativity

 
Making the decision to purchase a 3D printer is an important investment that will impact your creativity and productivity for years to come. With the numerous options on the market, it's crucial to find the right machine for your specific needs and budget. By comparing models from reputable brands like Kingroon, Anycubic, MINGDA and more, you'll gain valuable insights that empower choosing the perfect printer to enhance your work or hobbies. Whether you need resin precision, large scale printing or user-friendly operation, these choice provided below will offer you machines excelling in different use cases and price points. Use it to navigate the 3D printing landscape and take the first step towards unleashing your potential with an indispensable tool!
3.1 KOKONI-EC1 App Control 3D Printer
Bring the power of 3D printing to your home or office with the KOKONI-EC1 App Control 3D Printer. This user-friendly desktop 3D printer makes high-quality printing accessible to beginners while still offering advanced functionality for experienced makers.
The KOKONI-EC1 features an enclosed, sleek design measuring just 7.44" x 10.7" x 9.09" and weighing only 6.83 lbs. Despite the compact footprint, it provides a generous 5.9" x 5.9" x 2.28" build volume for printing decently sized objects. The whisper-quiet operation also makes KOKONI EC1 suitable for any environment.
Setup is made simple with an easy to follow quick start guide and intuitive mobile app control. Once loaded with PLA filament, you can start printing customized 3D creations effortlessly right from your smartphone or tablet via WiFi. The open-source software slices models automatically with optimal settings. In addition, you can export GCode to tweak parameters for special materials.
Print quality is excellent thanks to the 0.4mm nozzle capable of layer resolutions as low as 0.04mm and XY accuracy of 0.011mm. Prints come out smooth and detailed and print speeds can reach a fast 80mm/s, allowing smaller prints to complete in under an hour.
KOKONI engineered a special modified PLA filament optimized for the printer that loads and extrudes smoothly without clogging. The non-toxic, safe material requires no heating of the print bed and offers a beautiful matte finish straight from the printer. You can also experiment with other standard PLA blends compatible with the KOKONI-EC1.
Whether you're looking to explore the possibilities of 3D printing or desiring an efficient, hassle-free desktop printer for work, the KOKONI-EC1 App Control 3D Printer delivers professional results in a smart, compact package. Its mobile app and automated software allow you to get started a breeze while the speed and quality exceed expectations for a printer this accessible.
3.2 LONGER LK5 Pro 3D Printer
The LONGER LK5 Pro 3D Printer is a high-quality desktop 3D printer suitable for a variety of personal and professional needs. As one of LONGER's flagship FDM printers, the LONGER LK5 Pro incorporates many upgraded features that provide accurate, high-speed printing in a user-friendly package. Its sturdy steel frame design measures 580x540x663mm and weighs 13.5kg, providing stability for reliable long-term use.
The large 300x300x400mm build volume allows creative freedom to print objects of substantial size in one piece. Multi-material compatibility is also possible with additional upgrades. Out of the box, the LK5 Pro can already print ABS, PETG and PLA filaments with 230 micron layer resolution for true-to-design prints. Its direct-drive extruder accurately melts and deposits plastic at speeds up to 180mm/s for fast output while maintaining quality.
Further maximizing productivity is an improved dual blower system that superiorly manages print cooling. Its consistent temperatures and fewer warping or delamination issues result. The user-replaceable 0.4mm nozzle provides unobstructed extrusion and print quality and success rates are optimized. For adhesion, a spring steel build plate powered by a 100°C heated bed ensures effortless material removal after completion.
Leading the LK5 Pro is an ultra-quiet, 8-bit open source motherboard and 350W power supply. Hassle-free, guided setup takes as little as 10 minutes through a 90% pre-assembled construction. Its 4.3-inch color touchscreen runs optimized firmware for easy operation in multiple languages. As one of the LONGER 3D printers, it supports file formats like Gcode, STL and OBJ from USB drives or microSD cards.
Even beginners will appreciate assisted features like self-developed auto bed leveling. Manual adjustments are unnecessary for smooth initial layers every time. Heat loss is essentially eliminated through robust insulation, and the printer resumes reliably from power outages. An included spool holder keeps tangles away while feeding precise amounts of filament. And overall upkeep remains pleasantly low-effort as well.
With intelligent monitoring, automatic filament run-out sensing aborts prints to prevent wasted material, which preserves both plastic and time. Troubleshooting is also simplified through direct access to component fans, thermistors and other modular internals designed for repairability. And its voltage compatibility ranges from 100-120VAC in the Americas to 230VAC globally.
Thanks to LONGER's thorough research, the LK5 Pro 3D printer balances affordability with outstanding printing performance. As both an everyday creative tool and light-duty manufacturing partner, it empowers users of any skill or application level. Its thoughtfully incorporated features maximize productivity while occupants focus on imagination instead of machine operation. Both beginners and experts will appreciate reliable and versatile high-value provided.
In summary, the LONGER LK5 Pro desktop 3D printer presents a well-rounded package. It combines high precision, smart automation, user-friendliness and professional-grade results for a vast array of personal, institutional or commercial needs. With plug-and-play simplicity and strong build capacity, this flagship model is potential to become the preferred choice on any desktop.
3.2 Anycubic Photon M3 3D printer
The Anycubic Photon M3 is a mid-range, high precision stereolithography 3D printer suitable for producing high-detail resin prints. As one of Anycubic's most advanced SLA printers to date, Anycubic Photon M3 enhances the impressive accuracy and productivity provided by its Photonic series predecessors. Weighing just 7kg, its relatively compact machine size of 425x269x256mm allows desktop placement yet houses robust features within an anodized aluminum frame built to last.
Beginning projects and supplemental education are simplified through a straightforward assembly process involving only a few major components. Within around 30 minutes, even novices can complete setup using the clear quick start guide and have the printer ready for initial leveling and test prints. And an easy-access bottom drawer conveniently stores tools while built-in spool holders prevent excess resin tank buildup.
Digital slicing is handled through the Photon Workshop software suite compatible with Windows and MacOS. Its supported file types include standard 3MF and proprietary formats, enabling effortless print preparation from a variety of 3D modeling environments. Generated code is directly transferred to the M3 via USB thumb drive or SD card insertion into the front panel.
Boasting a 67% larger build volume than the previous Photon, the 180x163x102mm resin vat on the Photon M3 expands opportunities for ambitious creations. Its 2.8-inch color touchscreen grants instant, intuitive controls to monitor ongoing prints and slice additional jobs with simple menu navigation in multiple languages. Status updates show elapsed duration, estimated completion time, and percentage progress to maximize efficiency.
Anycubic's proprietary light source assembly establishes a new benchmark for SLA resolution with its fine 51-micron XY accuracy across an enormous 51,456 individually addressable LEDs. This powerful parallel matrix light cures tight layers only seconds apart faster than regular projection printers while preserving phenomenal surface quality down to the micron scale. At 400:1 contrast ratio, even intricate geometric patterns and multipart assemblies can be reproduced flawlessly.
Resin compatibility extends far beyond the included ceramics-grade cleaning fluid with approval for a wide variety of specialized materials from ordinary clear to rubbery flexible and reinforced engineering resins. With Anycubic 3D printers of this kind, services like jewelry, dental, prototypes, figurines and cosplay find excellent application here. Two included USB flash drives also provide lifetime access to Photons' safe, constantly expanding Anycubic and third party resins database.
Safety remains a top priority as evidenced by the inert build chamber, splash guard, and activated carbon filter that safeguards against harmful odors and particles throughout continuous purification. A magnetic safety switch further prevents accidental overexposures when accessing work in progress. Auto-off after periods of idleness also conserves vital resin.
Speed gains arise through fast 55W UV curing as short as 50mm per hour at high densities. Cleaning stations integrated into the Photon Workshop software expedite post-processing by suggesting resin-specific parameters like wash times and cure intensities for consistent results batch after batch. Adjustable settings customize light exposure durations and lift distances to any material.
Unmatched value appeared when Anycubic disrupted competition with the original Photon and still holds true today. The Photon M3 raises the bar higher yet again through monumental gains like its parallel light technology and large-scale production platform. Backed by a 12-month hassle-free warranty and lifetime technical support, patrons are assured of risk-free, dependable performance for education, prototypes, final parts and more. Both experts and novices will appreciate a finely-tuned balance of production prowess and approachability within one complete resin 3D printing bundle.
For serious projects or expanding businesses seeking top-shelf precision in an affordable desktop package, the Anycubic Photon M3 fits the bill perfectly. With its well-rounded feature set optimized for features like speed, precision, automation, and material diversity, this 3D printer establishes a new standard and paves the path towards exponential innovation in desktop 3D manufacturing.
3.4 Kingroon KP3S Pro 3D printer
The Kingroon KP3S Pro is an affordable desktop 3D printer suitable for a variety of personal and professional applications. As an entry-level machine from the reputable Kingroon brand, Kingroon KP3S Pro incorporates robust yet easy-to-use features to deliver precise, high-quality prints for users of any experience level.
Weighing just 7.6kg and measuring 495 x 506 x 580 mm, the KP3S Pro has a compact footprint that allows placement on any desktop workspace. However, it does not compromise on build volume, presenting a 210 x 210 x 200 mm printing envelope - ample size for a wide range of projects to be completed in a single build. Construction is made of heavy-duty ABS plastic and aluminum rails, providing a stable platform for reliable long-term operation.
Straightforward setup is a huge advantage, taking around 15 minutes thanks to 95% pre-assembly. Beginners will find the simple installation process and intuitive operation approachable with step-by-step instructions. Assembly requires no technical skills as the various major components nearly click together. This rapid deployment means users can start printing with minimal downtime.
After leveling the included borosilicate glass print bed treated with carborundum, printing comfort is optimized through the premium Titan extruder and filament drive system. Versatile filament compatibility includes popular Builds ABS, PLA, nylon and TPU for diverse applications, handled with care through automatic retraction and controlled extrusion. Meanwhile the input power of Kingroon 3D Printers is quite potent and for this one, its input power configurable between 110-220V worldwide.
Designed for ease of use, setup and monitoring are controlled via an integrated microSD card slot. Imported G-code profiles can directly drive Kingroon KP3S Pro without requiring connection to a host PC. A quick heating ceramic core delivers reliable adhesion through steady bed temperatures up to 110°C if needed. Combined with the removable steel-reinforced platform, parts reliably stick yet conveniently release.
High precision derives from Kingroon KP3S Pro's micro-stepping stepper driver and 32-bit mainboard. Swathed in acoustic-dampening materials, it operates near-silently while achieving an impressive 0.1mm layer resolution. Automatic resume capability prevents wasted time and filament if power cuts during long prints. Dual Z-screws and reinforced rails also maintain astute Z-axis stability across large prints.
Simple access to leveling screws and internal components promotes convenient adjustability and repair in the future. As a whole, the Kingroon KP3S Pro allows limitless creativity through its polished balance of core specs and usability features - all without complexity or steep learning curves.
In conclusion, the Kingroon KP3S Pro presents exceptional value for the price. With high resolutions, stable operation, user-friendly design and factory assembly assistance, it serves as an solid choice for education, light CAD prototyping, functional items and more. Though compact, its powerful hardware matches larger printers' performance while preserving approachability. Both entry-level users and experienced enthusiasts will appreciate the KP3S Pro's well-rounded feature set unmatched at this cost point. Its hassle-free printing empowers focus on design rather than the machine itself.
3.5 Easythreed K7 3D printer
The Easythreed K7 is an excellent entry-level desktop 3D printer suitable for anyone interested in the joy of 3D printing. This pocket-sized Easythreed K7 3D printer brings professional-grade performance to students, educators and makers on a tight budget without compromising on quality or features.
Measuring a mere 235x175x270mm and weighing only 1.6kg, Easythreed K7 easily finds a home on any desktop. However, its miniature size belies a generous 100x100x100mm build volume - ample workspace for printing creative designs, prototypes, toys and more. Setup is wonderfully simple, taking mere minutes thanks to the K7's near plug-and-play nature. Just add PLA filament and you'll be 3D printing in no time.
Easythreed's embedded microprocessor yields a reliable maximum layer resolution of 100 microns for detailed, accurate prints. Moreover, it utilizes proven FDM printing technology with an adjustable 0.4mm nozzle fed by 1.75mm PLA filament. The removable printing platform and adjustable bed temperature up to 60°C ensure first layer adhesion without parts tearing during removal.
Intuitive single button controls paired with an information OLED screen deliver approachable operation. Files are prepared using free slicer programs like Easyware K7, Cura and Simplify3D then loaded via MicroSD or USB for versatile printing anywhere. Precise positioning along the X, Y and Z axes yields build deviations as low as 0.1mm for engineering-grade tolerances.
Both novices and experienced makers will appreciate the K7's user-friendly features alongside its capable technical specifications. As one of the Easythreed 3D printers, its automatic bed leveling of wows newcomers while seasoned users admire versatile temperature controls to 220°C and feed rate customization. And a cleaning kit, extra nozzle and sample filament allow assisted print tuning and adhesion tests for educational prototyping projects.
Constructed from high-quality engineering-grade ABS, aluminium and silicon rubber; the K7 withstands rigorous daily operation yet remains virtually silent. Its minimal power draw from a standard 5V/2A wall adapter permits energy-efficient, safer long-term printing.
In conclusion, Easythreed's comprehensive K7 bundle delivers tremendous value. As a 3D Printer For Kids, it allows limitless creativity through accessible, flawless 3D printing to boost learning, productivity and imagination. Whether for education, casual crafts or light commercial application, it packs high quality, dependable performance into a small package at an unbeatable value.
3.6 Anycubic Kobra Plus 3D printer
The Anycubic Kobra Plus is an excellent desktop 3D printer that offers professional performance at an affordable price. It represents a powerful blend of high precision, intelligent automation, reliability and user-friendliness. With comprehensive feature set, Anycubic Kobra Plus is capable of handling a wide variety of personal and business 3D printing needs.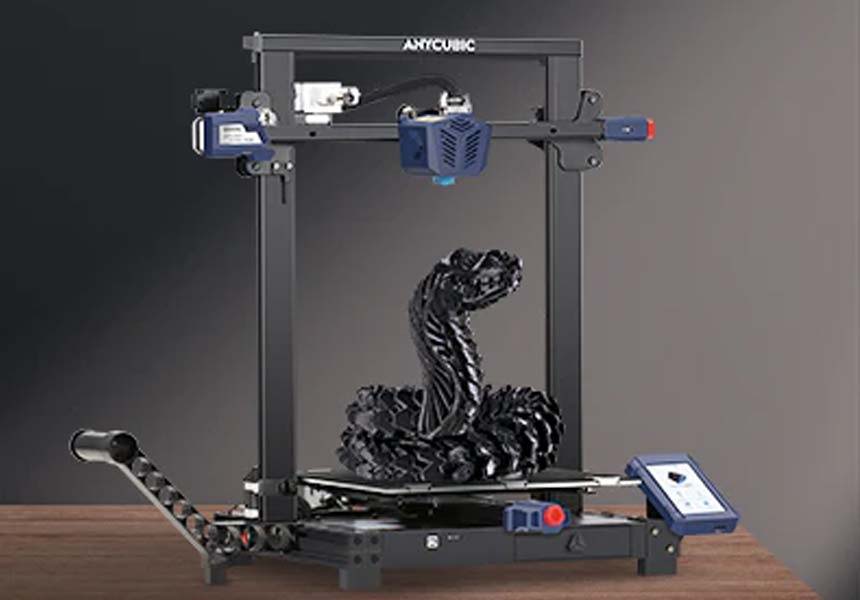 Boasting a generous 300x300x300mm build volume, this 3D printer provides ample creative space for producing large, multi-part objects in one build. Its one-piece sheet metal frame and honeycomb base construction lend durable stability and precisely leveled prints. Setup is easy through an intuitive assembly process taking about 10 minutes with basic tools. Thanks to Anycubic's thoughtful design, users will be 3D printing in no time.
At the heart of Anycubic Kobra Plus is direct-drive extruder paired with a hardened 0.4mm nozzle for smooth, consistent flow of materials like PLA, ABS, PETG and flexible TPU filaments. Together with easy-swap build plates up to 110°C, this produces reliably strong adhesion without damaged parts. The 4.3-inch touchscreen and plugin microSD card slot facilitate plug-and-play printing anywhere through intuitive menu navigation.
Further boosting usability is Anycubic's innovative 25-point automatic bed leveling system, ensuring flawless initial layers print after print. Features like filament runout detection prevent wasted materials. Extensive supersizing on the edges and base increases overall durability, allowing it to provide stable, reliable printing without the need for frequent calibration.
With a component shelf, spool holder and included tools, maintaining the Kobra Plus is designed to be low-effort as well. Its fully closed body retains warmth admirably while keeping debris out better than competitors. Generous print speeds up to 180mm/s also facilitate highly productive workflows.
Its combination of engineering-grade build quality, high resolutions, and assisted operation truly empowers all levels of users. For education, professional prototyping and light commercial fabrication needs, Anycubic Kobra Plus brings time-saving, cost-efficient 3D printing that just works.
In summary, the Anycubic Kobra Plus desktop 3D printer offers immense power, features and user-friendliness matched by none in its price class. Its solid design, accurate performance and assisted features come together to make 3D printing genuinely productive and stress-free for myriad personal and business applications. For dependable, advanced capability at an unbeatable value, it is the clear choice.
3.7 MINGDA Magician Pro 3D printer
The MINGDA Magician Pro represents the pinnacle of versatile desktop 3D printing, which achieves unparalleled build quality, throughput and ease-of-use through its robust yet finely-tuned design. If you're serious about unleashing your creativity or productivity through 3D printing, look no further than this powerful workhorse.
Starting with the foundations, MINGDA Magician Pro's heavy steel frame ensures years of solid, stable operation. Within lies a generously sized 400x400x400mm build volume - finally, a pro-level workspace on your desktop! Setup is simple thanks to over 90% pre-assembly; within minutes you'll be calibrating and embarking on your first prints.
What powers the MINGDA Magician Pro is a self-developed automatic leveling system using 36 measuring points. After a single click, flawless initial layers are guaranteed print after print for perfect part accuracy and minimal support material wastage. MINGDA Magician Pro's micro-stepping direct drive extruder feeds 1.75mm filament with precision, achieving layer widths as fine as 100 microns.
Talk about speed - the Magician Pro boasts breakneck average print rates up to 10cm/sec through careful part cooling from dual 50mm fans. With its heated 110°C borosilicate bed, even the most challenging layouts and large ABS prints release effortlessly. A reinforced Z-axis and vibration-isolated construction yield consistent quality at high speeds too.
Fuss-free operation comes from the intuitive 3.5" full-color touchscreen. It supports pre-loaded profiles for popular materials like PLA, ABS, PETG and flexible TPU immediately, in addition to affordably functional features like independent hotend control, resume-on-power and runout protection.
When all-nighters are necessary, the electromagnetic noise from steppers has been dampened to a peaceful ≤50dB. Even better, the plug-and-play USB connectivity, cameras and repair-friendly design empower continuous self-sufficiency.
At around $800, the Magician Pro pays for itself through boosted efficiency and access to its massive potential. Its immense power and usability will inspire new opportunities for engineering samples, prototypes, tools, artistic models and more. Therefore if you want to advance your abilities with an industrial-grade workhorse, look no further than MINGDA Magician Pro.
In conclusion, the MINGDA Magician Pro elevates desktop 3D printing beyond a toy into a true force multiplier. For limitless creativity powered by dependable, precise performance, this prosumer-level titan is worth every penny. It will accelerate your ambitions today and for years to come.
4.

Understand 3D Printing Materials
The choice of 3D printing materials greatly influences the properties and characteristics of your printed objects. Here are some commonly used materials in 3D printing:
4.1 Polylactic Acid (PLA):
PLA is a biodegradable and easy-to-print material, making it widely used for prototyping and hobbyist projects. It offers a range of colors and is suitable for objects that don't require high strength or heat resistance. PLA is an excellent option for beginners due to its ease of use and affordability.
4.2 Acrylonitrile Butadiene Styrene (ABS)
ABS is a durable and impact-resistant material commonly used for functional parts. It can withstand higher temperatures compared to PLA, making it suitable for applications that require heat resistance. ABS requires a heated print bed and proper ventilation due to the fumes it emits during printing.
4.3 Polyethylene Terephthalate Glycol (PETG)
PETG combines the ease of printing of PLA with the durability of ABS. It is known for its strength, flexibility, and resistance to moisture. PETG is suitable for a wide range of applications,including functional prototypes, mechanical parts, and outdoor applications.
4.4 Nylon
Nylon is a versatile material known for its strength, flexibility, and durability. It offers excellent impact resistance and is often used for functional parts, gears, and mechanical components. Nylon requires specific printing conditions, including a heated chamber, due to its tendency to absorb moisture from the environment.
4.5 Resin Materials
For SLA and DLP printers, various resin materials are available, including standard resins, flexible resins, and castable resins for jewelry applications. Resins offer exceptional detail, smooth surface finish, and a wide range of material properties. However, they can be more expensive compared to filament materials and require additional post-processing steps, such as UV curing and rinsing.
4.6 Other Materials
There is a wide range of specialty materials available for specific applications, such as carbon fiber-infused filaments for increased strength, wood filaments for a natural finish, and metal filaments for metallic appearances. These 3D Printers Filaments often require printers with specialized capabilities.
5.

3D Printer Specifications
Understanding the specifications of a 3D printer is crucial to ensure that it meets your requirements and expectations. Here are some key specifications to be considered:
5.1 Build Volume
The build volume refers to the maximum size of objects that a printer can produce. You should consider the dimensions of the objects you plan to print and choose a printer with an adequate build volume to accommodate your needs.
5.2 Layer Resolution
Layer resolution determines the level of detail and smoothness of your prints. It is measured in microns and refers to the thickness of each layer. A smaller layer resolution results in finer details but may increase print times.
5.3 Print Speed
Print speed varies across printers and can greatly affect the time it takes to complete a print. However, higher print speeds may sacrifice print quality, and therefore finding a balance between speed and quality is essential.
5.5. Connectivity Options
Before selecting a 3D printer, consider the connectivity options that the printer offers. Some printers allow for direct USB or SD card connection, while others provide wireless connectivity options such as Wi-Fi or Ethernet. Choose a printer with connectivity options that are convenient for your workflow.
5.6 Software Compatibility
Check the compatibility of the printer's software with the design software you plan to use. Some printers come with proprietary software, while others are compatible with open-source software. Ensure that the printer's software meets your requirements in terms of ease of use, functionality, and compatibility.
5.7 Additional Features
Different printers may offer additional features such as touchscreen interfaces, filament run-out sensors, heated print beds, dual extruders for multi-color or multi-material prints, and auto-leveling systems. Just consider these features based on your specific needs and preferences.
Conclusion
To sum up, purchasing a 3D printer is an important decision that requires thorough research and understanding of your specific needs and priorities. This guide aims to provide readers with the necessary knowledge to make an informed choice on the right 3D printer for their application. By identifying key factors like desired print sizes, materials, functional requirements and budget, buyers can narrow their options to printer technologies and models most suitable to their goals. Comparing popular choices from leading manufacturers helps evaluate specifications and optional features objectively. While several excellent options exist across different price points, assessing individual strengths and weaknesses empowers you to find the balanced package with optimal price performance. Don't hesitate to leverage expert advice from GearBerry as well for any clarification on the buying process. With a well-informed selection aligned with their intended use, 3D printing adopters are set up for fulfilling, productive journeys of discovery and creation.
As a company that aims to boost people's creativity, Gearberry spare no efforts to democratize access to manufacturing technologies that empower imagination and propel progress. Our expansive selection of laser engravers, 3D printers, portable power stations, CNC routers and e-bikes covers the essential needs of curious beginners, inventive students, established makers and growing businesses alike. The goal of GearBerry is to cut through the noise and complexity surrounding advanced tools to make them approachable, affordable and even enjoyable for people of all backgrounds.
Gearberry aims to be a comprehensive one-stop solution for all manufacturing technology needs. Whether exploring new hobbies or scaling business operations, customers will find powerful tools, guidance and community all in one place. Ultimately, by continuously refining offerings based on feedback, Gearberry hopes to shape how innovation is nurtured worldwide through greater accessibility of advanced manufacturing tools.