GT600 Protable Power Station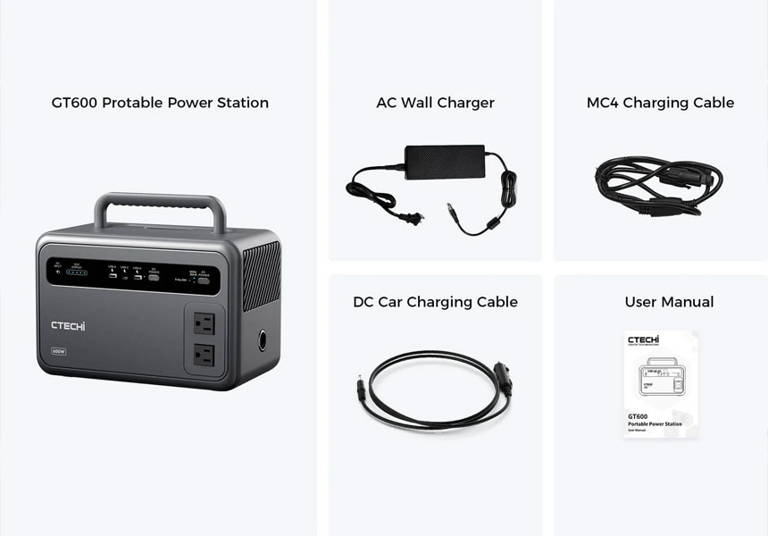 Products have
sold to consumers
Satisfied customers
and five-star reviews
Mentioned by expert influencers in industry
Camping / Home Backup Battery
A balanced entry-level outdoor power station with a focus on portability and lightweight, suitable for light camping use
Let's Hear the Real Customers' Reviews
Frequently asked questions
Have questions? We're here to help
Can you recharge using a 60w 18v solar panel?
Hello customer,
Yes. You may. Solar panels under 100W (open circuit voltage: 12-26V) are supported by this power source.
Hello customer, This is a portable power station made by CTECHi. It has 93600 mAh.
Is the AC output sufficient to power a nespresso pod coffeemaker? It's somewhat finicky
No. The maximum output of this size battery with a 650w surge protector is 450 watts, while mine (a Nespress) needs 1300 watts.
Does this have a 3 pronged AC or just a 2 pronged one?
You don't need to get an adaptor plug or remove the grounding pin because it is actually a two-prong receptacle with a hole for the ground pin to go into. There is no link to the earth. However, it would be rather pointless to run grounded plugs, GFIs, etc. on a unit that is entirely made of plastic and cannot be actually grounded, so it works out well. For what it's worth, I have found my unit to be excellent and dependable
Its AC adaptor has a 220 V input rating, right?
Can I switch to a more potent adapter than the standard 15v 4A - 60w?
This depends on the charger unit; some have a slider switch for adjustment. If you want to use a stronger charger, make sure the same plug type is used. Now, if you are using alligator clips to charge batteries, you are limited to the maximum amps that the battery or batteries can support.
Would this be sufficient to keep my fridge running?Refrigerator
This unit has a capacity of 299Wh; if your refrigerator uses 60W, it could last for 4.2 hours (299Wh*85%)/60W.
I have not been able to charge it back after my initial use. It only flashes one light and doesn't require any power. whether an AC, DC, or solar charge. Do you know why?
To recharge it, you must run it completely dry before plugging it back in.