Creating Timeless Memories with the LONGER Ray5 20W Laser Engraver: Photo Engraving Tips
I am clear that time is moving, thus our joyful times are always fleeting. But I always wish I could hold on to those meaningful moments. That's why I stick to photograph, I believe in this way, I can capture the perfect moment and immortalize it into a lasting memory. Nevertheless, despite our best efforts, photos can lose their sharpness and memories might start to fade over time. So I found another way to keep my photos in an eternal way. That is engraving it with the LONGER Ray5 20W Laser Engraver. I have to say it is so sturdy and magical that can achieve all my desire!
The shocking functions
Safety first
For engraving projects, safety is of the utmost importance. At this time, the 20W Longer Ray5 Laser performs excellently as well. All of these designs, including flame protection and warning, active position protection, thermal protection function, current safety control system, stationary protection, and limit switches, are user- and machine-friendly. I appreciate it a lot since it considers both our personal safety and our consumer rights. In my opinion, the thermal safety device must be the cleverest design, which keeps an eye on temperatures. If overheating is noticed, it will automatically shut off the cooling fan and laser to prevent dangerously high heat levels. Changes in temperature are difficult for me to detect. So I assume the design is very advantageous to people like me who lack empathy. Furthermore, by guaranteeing that the load current does not exceed the maximum limit, the current safety control system lowers the possibility of a short circuit or power surge. These stringent safety precautions lead to an always-safe operation.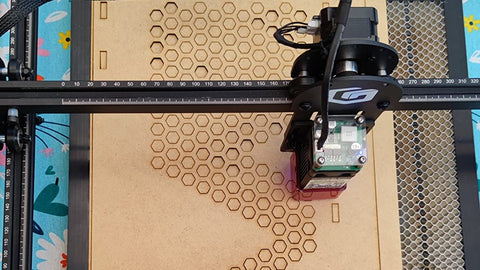 Never stop working
What surprises me most is the LONGER Ray5 20W Laser Engraver is equipped with a quad-core diode laser. Four diode lasers working together provide the system extra built-in redundancy. Your engraver can maintain full power operation with the three remaining diode lasers even if one fails or needs maintenance. So the downtime is minimal. We often say that there is strength in numbers, and the truth can be perfectly applied in this machine.
Superb efficiency
As soon as I got the engraver, I was eager to try out engraving photographs onto acrylic. My cat's high-resolution photo was uploaded to the engraving program, the engraving machine was connected, and an acrylic sheet was set down on the engraving table. I had my favorite pet's picture beautifully etched in a matter of minutes. The textures of the fur and the faint accents in the eyes were exquisite touches. I realized immediately that this engraver could create keepsakes that would last a lifetime.
But if you want to create timeless memories with your photos by the LONGER Ray5 20W, you still need to pay attention to some details.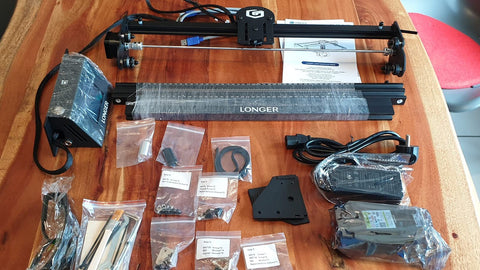 High quality and resolution is necessary
If you want a promising work, selecting a photo that is high quality with good lighting and contrast may be more successful. The greatest images are those with a lot of texture and detail. They produce an engraving that is more intriguing and livelier. In my experience, photos with at least 300 dpi resolution are better. But if you pursue a finer detail, you also could choose 600 dpi or higher.
Matching size is better
Photos no larger than 8x10 inches should be used for the Ray5 20W. Or it will take several additional passes to process larger sizes. So you need to make the photo size proportional to the engraving area.
Engraving materials are various
Wood, plastic, leather, and other materials can all be engraved with the LONGER Ray5 20W Laser Engraver. So you can select a material that goes well with your photo and is appropriate for the engraved piece's intended use.
Unique elements are available
Using software like LightBurn, you may add text or other graphic elements to further personalize and distinguish your engraved photo. This might be a wonderful way to include a special message or remember a certain day or occasion.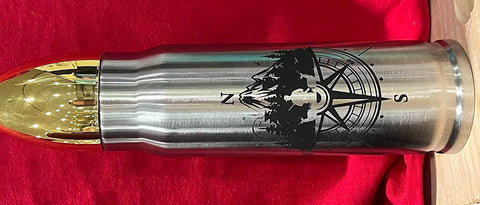 Different settings are required
For engraving on acrylic, you should use a speed of 40–60% and a power of 20–30%. This offers substantial cuts without cracking.
For engraving on wood, you should apply 30–50% power and 50–80% speed. Before sealing, use a tack cloth to remove any dust.
For metal engraving, slower speeds (20–40%) and more power (60–80%) are needed to penetrate the material. When you're done engraving, wipe off any metal shavings. If you need any professional and detailed help, you can find your answer at Gearberry!
Conclusion
Ultimately, laser engraving is a fun and adaptable method for keeping your memories. With its shocking functions such as precision engraving capabilities, safety features and durability, the possibilities are infinite! I have and will continue to have countless happy memories thanks to my Ray5 20W laser engraver. If you're interested in trying out laser engraving for your photos, GearBerry is a great place to start. As a website that sells various brands of desktop laser engravers, GearBerry offers a wide range of options to suit your needs and budget. I sincerely hope these pointers motivate you to begin your own photo engraving explorations!