The Perfect Pair: LONGER Ray5 20W Laser Engraver and Popular Design Software
Are you a person always know how to satisfy yourself? Or are you a individual often hold a positive attitude for life? If you are, I guess you must be a excellent DIYer! Since when we are DIYing, we are totally immersed in our world, in which we dance with our imagination and creativity. Especially when it comes to engraving, my energy wakes up. That's why I was excited to find the LONGER Ray5 20W laser engraver for my workshop and the most popular design software programs. In this post, I can wait to explain how powerful the LONGER Ray5 20W is and how magical the match of the machine and software is!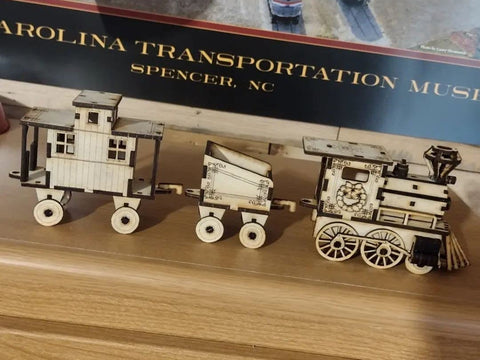 Do you want an efficient return?
Parallel operation distinguishes the Ray5 20W Laser Engraver from many other laser engravers on the market and is one of its most notable characteristics. Modern technology allows the equipment to be controlled by a single computer that can simultaneously manage numerous laser engravers. Commercial users can now arrange multiple units for engraving and cutting at once, increasing production and decreasing wait times.
Higher flexibility
Firstly, the Ray5 20W Laser Engraver's parallel operation increases workflow flexibility. Each machine can be configured to carry out a particular function, such as cutting, engraving, or etching, and the computer can control each device separately. By enabling you to work on several tasks at once without switching between different tools or devices, this can save you a ton of time.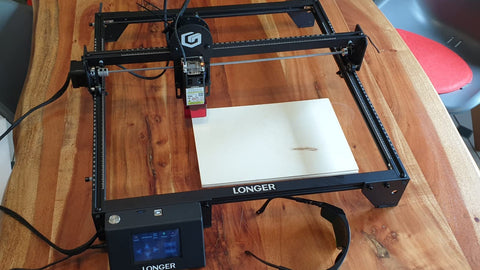 Best choice for large-scale projects
Moreover, you could run multiple machines simultaneously to complete tasks in a fraction of the time it would take with a single machine. The Ray5 20W Laser Engraver's productivity also enables it to handle even the most difficult assignments, ensuring that deadlines are met and clients are satisfied. I assume it is quite beneficial for businesses that need to produce a lot of engraved or cut materials.
Always by your side
The Ray5 20W Laser Engraver is designed to be able to simultaneously operate and continually engrave, which means that you can use the device constantly for seven days a week and 24 hours a day without it needing to cool down or shut off. So businesses that frequently need to continuously produce large quantities of cut or engraved goods may value this design.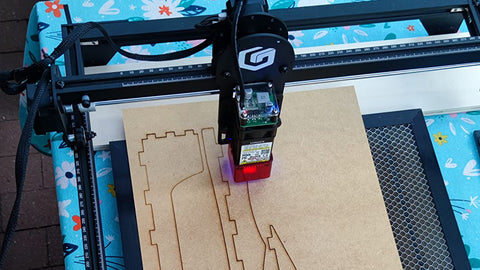 Do you want upgraded settings?
what it can engrave
The Ray5 20W Laser Engraver offers the versatility you need to complete any job, whether you're engraving wood, plastic, or metal. From thicker ones like 10 mm basswood and 15 mm pine to thinner ones like 0.05 mm stainless steel, can all be easily tackled with. What surprises me most is it can even sever 8 mm of acrylic in a single stroke.
How much working range it can provide
The large 375x375 mm working area of the machine is perfect for a variety of projects, whether you're a professional or a hobbyist. The spacious work area allows you to cut and engrave larger pieces of material without having to move them around frequently, increasing productivity.
how much power it may generate
The Ray5 20W Laser Engraver is powered by a robust 32-bit mother board, ensuring quick and accurate operation of the laser head. You can anticipate precise and consistent engraving and cutting results each time you use the machine. Additionally, the diode laser head's 20W optical output power is more than enough to easily cut through a variety of materials.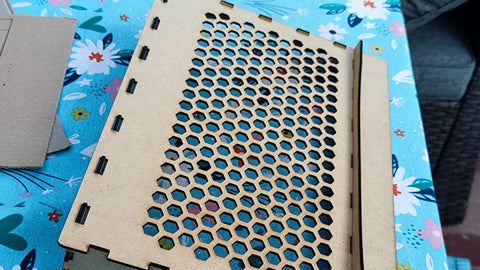 Do you want a reliable safeguard?
The Ray5 20W Laser Engraver includes a variety of safety features that make me feel secure using the device in addition to its incredible technological capabilities. They are limit switches, active position protection, thermal protection, current safety control system, stationary protection, flame protection, and alert. With them, I don't need to worry about accidents or equipment damage, which allow me to focus on my work.
Partner in destiny
Of all the desirable features of this machine, I cannot help but mention its fateful companion - LightBurn, CorelDRAW and Adobe Illustrator. The Ray5 20W includes a WiFi and USB connection, is compatible with a variety of design software, and has an app for mobile device control.
LightBurn
In LightBurn, I can add text, convert intricate vector artwork into engravings, load images as engravings, and fine-tune kerf, power, speed, and other variables to make my engravings as effective as possible. For a very realistic preview, use the preview option, which displays how the engraving will truly cut or etch the material. I adore how LightBurn automates the Ray5 20W, enabling me to click "Go" and have the program translate the image or design into the exact movements the laser requires to engrave it.
CorelDRAW and Illustrator
CorelDRAW and Illustrator both offer powerful design tools for creating etched images, shapes, and patterns. The designs can then be transferred directly into the Ray5 20W control application or LightBurn, where the Ray5 20W will precisely etch them. These comprehensive design programs give me a myriad of options for upgrading and customizing a variety of materials.
Conclusion
Is the combination of the Ray5 20W laser engraver and design software appeals to you? I've utilized this "doomed pair" to produce accurate engravings, etched glasses, metal nameplates, wooden carvings, and more for both private and professional tasks. If you also want to have a try, make sure to visit GearBerry since it will give you a brand-new experience. The Ray5 20W laser engraver will continue to inspire several further engraving and cutting experiences for many years to come owing to its robustness, connection, and software support. I have developed unlimited potential through it. Hope you can have fun and enjoy too!