Revamp Furniture: Easy Tricks to Transform Old Pieces with Laser Etching
Have you been thinking you could revive some worn-out furniture in your house but feeling too overwhelmed by the amount of work required? Furniture renovation can seem like a difficult endeavor, but with the correct equipment and methods, you can turn worn-out items into gorgeous house additions. Particularly with laser engraving, wood surfaces may be easily updated and given a fresh individuality. And it's never been simpler to breathe new life into vintage artifacts with to the LONGER B1 20W Laser Engraver. I'll demonstrate several simple techniques for repurposing furnitureh with laser etching in this post.
What laser engraving can do for you?
First things first, let's talk about what laser etching is. Laser etching is a process that uses a high-energy laser beam to burn designs into a material's surface. With the LONGER B1 20W Laser Engraver, you can etch designs into a wide range of materials, including wood, metal, leather, and more. This makes it the perfect tool for revamping old furniture pieces. I can easily etch complex patterns, pictures, and text onto wood surfaces like tables, cabinets, chairs, and more using the Laser B1. Without spending a lot of time or effort, the results are impressive and give cherished but beaten-down furniture a fresh start.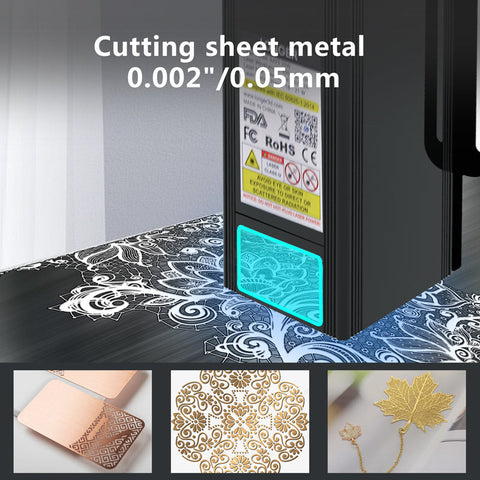 Elaborate designs
One of my favorite tricks for transforming furniture with laser etching is to create intricate designs on the surface. For example, if you have an old wooden coffee table, you can use the LONGER B1 20W Laser Engraver to etch a beautiful mandala or floral pattern onto the surface.  This will instantly give the table a new and unique look that will be sure to impress your guests.
I began by doing my experiments on a rusted-out side table. I was hoping to give the finish an artistic improvement without sanding or replacing the entire surface because it was lifeless and damaged. I started working with the suitable Lightburn program for the Laser B1 after loading an open floral pattern.
The table's surface was effortlessly cut through by the laser's potent 20W output in a single pass, leaving behind delicate grooves that gave the appearance of floral inlays. The engraving and the original polish really stood up when I removed the burnt wood residue. A single layer of lacquer sealer restored the table's gloss while locking the engraving in place. It took approximately an hour to complete, and I was really pleased with the outcome.
Give your furniture some words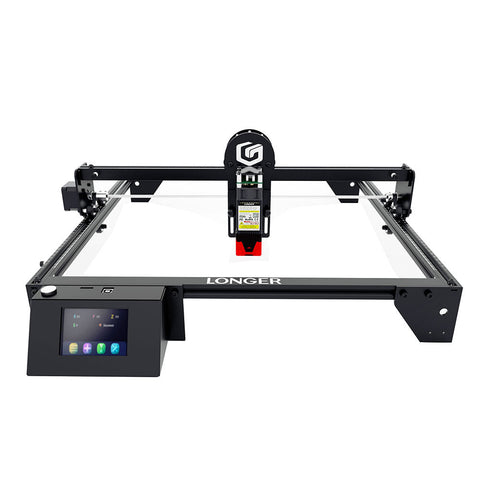 Another trick is to use laser etching to add text to your furniture. This can be a great way to personalize pieces and make them more meaningful. For example, you might use the LONGER B1 20W Laser Engraver to etch a family name onto the back of a wooden chair or to add a favorite quote to the surface of a table or dresser.
I then revived three wicker chairs with worn out stains on the armrests and faded hues. In the laser software, I chose some text and geometric forms, then I focused the beam on a test place while varying the speed and power as necessary. Then, for a modern geometric pattern, I engraved my entire design across the front and sides of both chair arms.
One day, I wished to give a beaten-up bookcase some aesthetic appeal. I was able to engrave a flowing vine pattern across the entire shelving surface using the Laser B1's huge workspace in just a few passes. I adore how the organic curves and natural lines unexpectedly give the bookcase's cube shape a modern farmhouse feel.
Practical and useful applications
Laser etching is not limited to just aesthetic engraving - it can also be used to imprint practical and functional designs onto wood furniture. The LONGER B1 20W Laser Engraver is well suited for this due to its high power, large workspace and precision control. Etching measurement rulers directly onto flat work surfaces is a famous illustration. Both imperial and metric scales are simple to engrave along the sides of a workbench, giving you a quick reference right where you need it. Having measurement lines carved into the work surface itself ensures accuracy and ease whether you're cutting wood or marking fabrics. On the edges of cabinets, shelves, and drawers, you can also install measuring markers. On the vertical faces of wooden furniture, etch lines with equal spacing that represent inches or centimeters. This helps ensure that goods are consistently measured and cut to precise lengths so that they will fit neatly inside the storage box.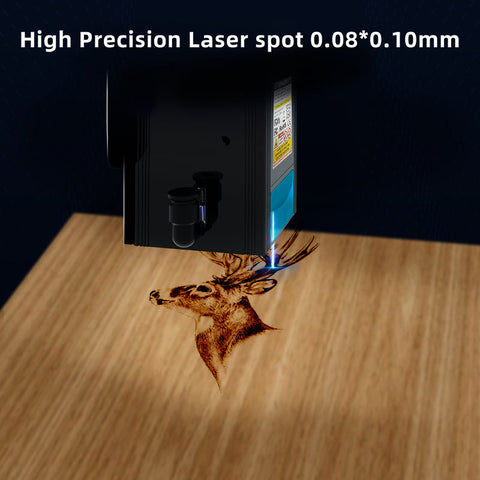 Actually engraving labels onto furniture is another practical method. Items are kept organized and simple to find with the use of labels on the faces of drawers, shelves, or cabinet compartments.  Because of the accuracy of laser etching, you may also imprint artwork, such as icons for particular instruments or supplies, that clearly indicate the contents.
The broadest instances 
Etching designs directly onto the materials of ancient furniture is one of the most adaptable uses for laser engraving. With the LONGER B1 20W Laser Engraver's high power and accuracy, you can effortlessly engrave elaborate patterns on a variety of woven and non-woven textiles to turn worn-out furniture into striking statement pieces.
The B1's 20W CO2 laser can carve intricate patterns, textures, and images onto both natural and synthetic materials. The strength and breathability of cotton, linen, and hemp are among their advantages. However, even more delicate fabrics like silk and velvet can be laser etched to create depth and texture without running the danger of damaging them by melting, burning, or warping them.
For instance, you may engrave geometric shapes, floral themes, or leaf designs onto an antique couch or armchair's cushion. The exposed fabric strands are successfully caramelized by the laser, leaving behind tiny ridges that give the surface character. The overall integrity of the fabric is maintained while adding visual appeal to what was previously a simple material with the proper intensity level and speed settings.
So, now that you know some of the tricks for transforming old furniture with laser etching, let's talk about how to use the LONGER B1 20W Laser Engraver to get the best results.
Select the appropriate material
First, it's important to choose the right material for your project. The LONGER B1 20W Laser Engraver can etch designs into a wide range of materials, but some will work better than others.  For example, wood and leather are great materials for laser etching, while metal can be more challenging.
Make your own design
Once you've chosen your material, it's time to create your design. You can use a variety of software programs, including LaserGRBL and LightBurn, to create your design. These programs are compatible with the  LONGER B1 20W Laser Engraver and allow you to create intricate designs with ease. You may quickly generate vector designs for laser engraving and cutting with the help of the free and open source program LaserGRBL. To make vector outlines, you can import photos and trace them afterwards. The program has a number of tools for drawing polygons, circles, rectangles, and both straight and curved lines.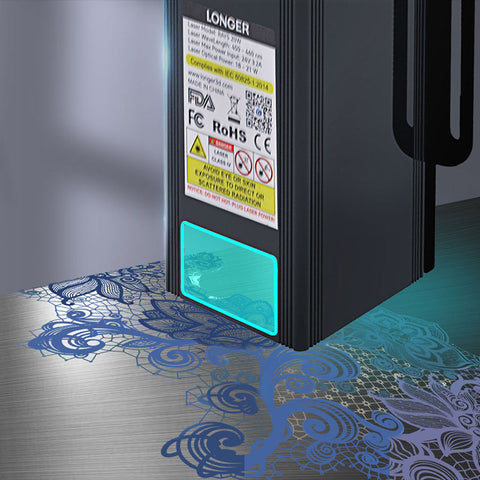 Impressive features of LightBurn include synchronizing numerous laser heads, automated nesting to optimize material utilization, and interaction with CAD applications. The program lets you adjust the power and speed for particular areas of the same design. Additionally, it displays a simulation of the finished product and a live glimpse of the laser toolpath.
Set up your machine
Once you have your design, it's time to set up the LONGER B1 20W Laser Engraver. This is a fairly straightforward process, and the machine comes with clear instructions for getting started.  Once you have the machine set up, you can begin etching your design onto your chosen material.
Stay safe at all times
One thing to keep in mind when using the LONGER B1 20W Laser Engraver is that it's important to take safety precautions. The machine comes with a range of safety features, including a security lock and an emergency stop button, but it's still important to wear protective gear, such as safety glasses, when using the machine. Never look directly into the laser beam. Even brief exposure can cause permanent eye damage. Negative fumes are produced during the laser engraving process. To guarantee appropriate ventilation, use a suitable exhaust system or open windows and doors.
Conclusion
So, if you have any worn-out, outdated furniture that may use a trendy improvement, think about laser engraving a makeover for it. The LONGER Laser B1 20W is the best option for quickly updating favorite wood objects in your home without the need for sanding, staining, or painting because to its high-power laser, larger workspace, and variety of safety features. By the way, keep in mind to check out GearBerry to see the LONGER Laser B1, which will debut on May 15 and will cost $839.99 at launch, $799 during the first promotional period, and $799 thereafter. The rest is up to your imagination; all you need is a little inspiration, some scrap wood for testing, and the suitable laser engraver.