Level Up Your Laser Engraving with the Powerful 33W Longer B1 30W Machine
Introduction
For laser engraving and cutting, power is everything. More power means faster cutting, thicker materials, finer detail, and greater creative possibilities. That's why the new LONGER Laser B1 30W laser engraver is set to be a game-changer for hobbyists and professionals alike. With its muscular 33W laser and robust set of features, the B1 far surpasses standard desktop engravers, delivering a major boost in capability.
Compared to popular models like the Sculpfun S9, the B1's 33W laser can cut much thicker materials with ease. Even up against professional-grade options like the Ray 5, the B1 still provides a major power increase to take output to the next level. Ready to step up your laser engraving with Best laser engraver of 2023? Let's look at how the B1 leaves the competition behind.
Unrivaled Laser Power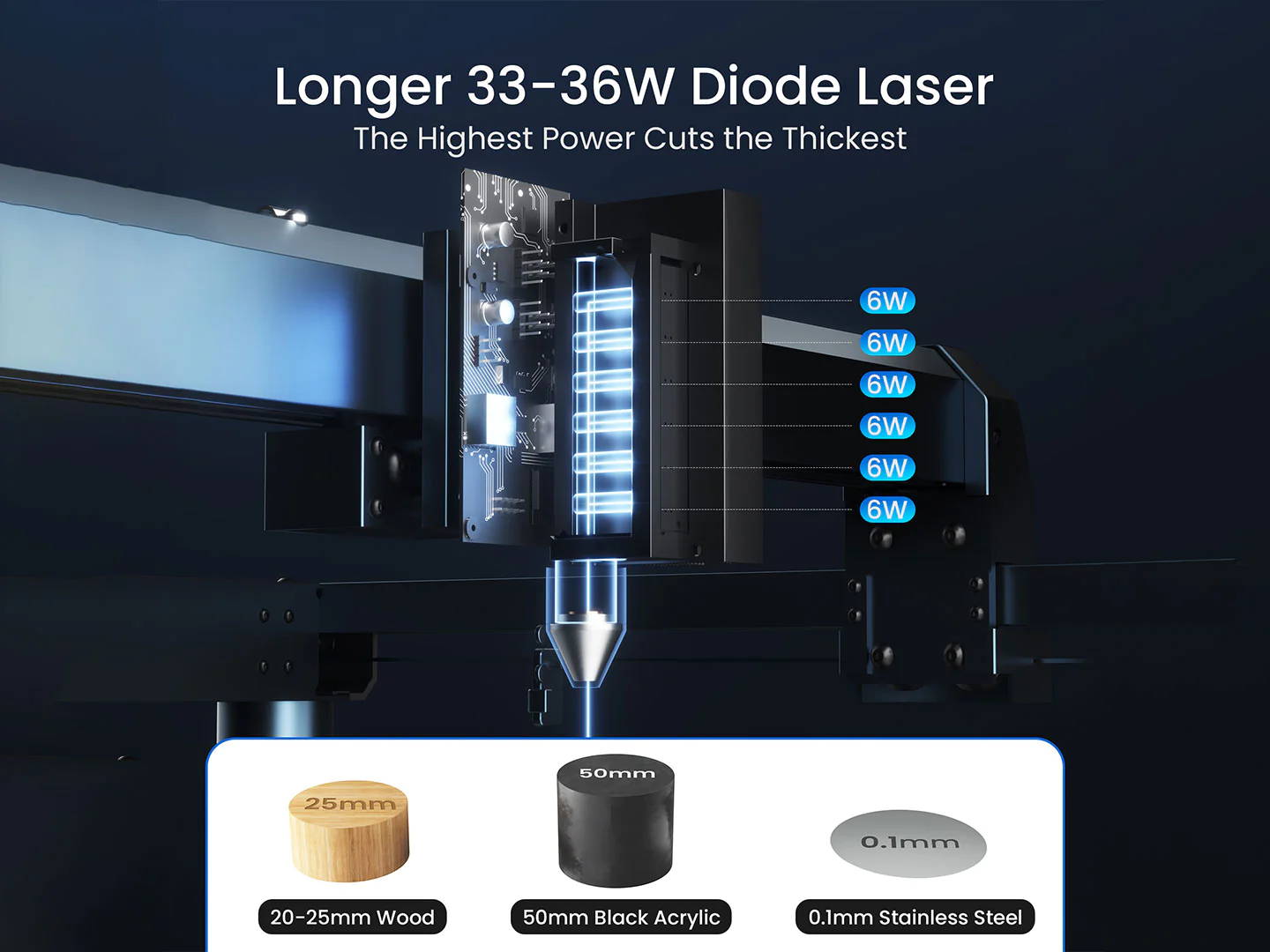 At the heart of the Longer B1 sits its muscular 33W laser, one of the most capable diode lasers on the market. among all the LONGER laser engravers, the B1'extra power is the most potent. It can easily cut through 20mm wood, 10mm acrylic and thin sheets of steel in a single pass. For context, those thicknesses would be impossible on consumer machines like the S10 Pro. Even multi-pass cuts through 25mm wood or 50mm acrylic are no match for the B1's laser power. Simply put, it massively expands the range of materials and applications possible.
User-Friendly Design
Despite its prodigious power, LONGER designed the B1 for easy use. The laser head has an integrated pull-down tab for quickly adjusting focus height. Just lower the tab and slide to the material surface for crisp focus. Thoughtful details like this make the B1 welcoming for newcomers while offering specialty features demanded by professionals.
Versatility for Over 1000 Materials
From wood and acrylic to steel, stone, leather, and more, the B1's 33W power lets it laser cut or engrave over 1000 material types. Consumer machines often struggle when moving beyond soft wood and plastics. But the B1 provides the muscle to explore working with semiprecious metals, stone, rubber, film, and other next-level materials. As you discover the versatility of the B1's powerful laser, you can unlock new creative possibilities.
Blazing Fast Speeds
By utilizing a 32-bit motherboard and silent stepper drivers, this machine can reach engraving speeds up to 30,000mm per minute – 4 times faster than standard engravers. Moreover, the silent drivers mean the machine runs whisper-quiet. You can power through projects faster than ever while enjoying the hushed performance with LONGER Laser B1 30W.
Cutting-Edge Safety Features
For the first time, you can get advanced 33W laser power in a desktop package with LONGER's B1 engraver! Along with beefed-up power comes increased risk, it is also packed with cutting-edge safety features. This includes auto shut-off when tipped, exposed to flame or disconnected. The laser head also auto-resets to prevent fire damage. And with acrylic shielding that blocks 99.8% of laser light, your eyes stay protected. The B1 brings pro-level power to the desktop, safely.
Stable High-Speed Machining
Constructed on a rigid aluminum frame and precision mechanics, the B1 maintains stability even through demanding high-speed operation. This produces smoother, more accurate engraving with fine details. Sturdy build quality means low vibration and quiet performance. Though desktop-sized, the B1 operates with the unshakable reliability of industrial equipment.
Giant 17" x 17" Engraving Area
In addition to amped-up laser power, the B1 also provides a giant work surface. With dimensions of 17.7 x 17.3 inches, its work bed could up to a whopping 25%. This expanded area gives the flexibility to take on more significant engraving projects, work with larger pieces, and make batch jobs more efficient. If you've been wishing for more room to unleash your laser creativity, the B1 delivers in spades.
Lightning-Fast File Transfer Options
For flexible workflow, the B1 supports quick file transfer over WiFi and USB. This untethers you from a wired PC connection and it is compatible with laser engraving software like LightBurn for turnkey operation. And it accepts standard file types like JPG, PNG, SVG and G-Code. With robust connectivity and software support, the B1 is easy to integrate into your creative process.
Conclusion
In summary, the LONGER Laser B1 30W provides unprecedented power, speed, flexibility and intelligent design. For users ready to take their laser engraving to the next level, the Longer B1 represents a major leap forward in technology and performance. With robust features far exceeding standard laser engravers, the Longer B1 is the new star of the laser engraving world.
For those looking to purchase this revolutionary machine, Gearberry is the premier destination for accessing the Longer B1 and complementary accessories. We are an online retailer specializing in providing high-tech tools and equipment for makers, DIY enthusiasts, and small businesses.
With a particular focus on laser engravers, 3D printers, CNC routers, and other advanced fabrication technologies, Gearberry aims to make these devices accessible by offering premium products at reasonable prices. We work directly with top manufacturers like Longer to curate a selection of the most innovative, user-friendly machines that balance performance with affordability.
In spite of just selling devices, our firm strives to fuel creativity and production. Our website offers compatible accessories, materials, replacement parts, tools, and interactive tutorials to help users get the most from their purchases. Gearberry also provide exceptional customer service with rapid order fulfillment and expert support via phone, email, and chat.
According to our customers, we succeed in simplifying the process of buying complex tools like laser engravers. Our team helps buyers make informed purchasing decisions through comprehensive buying guides, product breakdowns, technology explanations, and tailored recommendations.
Gearberry's ultimate goal is to democratize access to the manufacturing technologies that are now propelling small business success and artistic expression. By building direct relationships with manufacturers, we are able to negotiate bulk pricing deals that get passed on to consumers. Quality and innovation are never sacrificed though. We promise to always deliver the best in class products.
In keeping with a customer-focused approach, we invite Longer B1 buyers to tap into their community of makers. By sharing ideas, projects, and advice, users can learn from each other and fully harness the potential of their new laser engraver. Gearberry aims to provide both the tools and connections to turn ambitious ideas into reality.
For those inspired to bring a Longer B1 laser engraver into their workshop or business, let's go and visit our website to purchase the machine, accessories, materials, and more, all in one place. Take advantage of what we can provide before, during, and after purchase to ensure laser engraving success!