Unlocking Your Creativity with the Longer LK5 Pro 3D Printer
In my opinion, creativity is not entirely innate. Even though we have vivid imaginations from birth, the circumstances we face may severely restrict our ability to take action. As a consequence, we frequently require certain supplementary tools to enable us to transfer our ideas into tangible results. This is why I appreciate 3D printers. Especially the Longer LK5 Pro 3D Printer. It truly fulfills my wishes and allows me to express my imagination. So in this post, I want to tell more people why this machine is so strong that can unleash your creativity, and introduce some engraving ideas representing your ingenuity
Artists seek efficiency too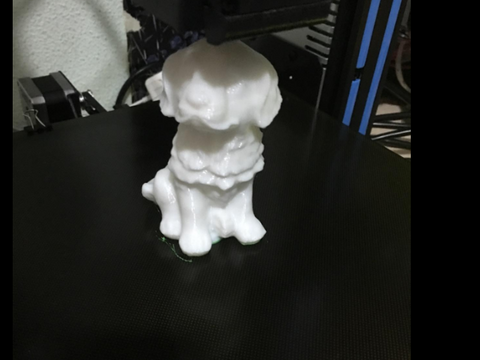 For a creator, rapidity and preciseness are vital, and the LK5 Pro satisfies. I can finish several prints in a single daytime thanks to its up to 180mm/s printing speed. Even for intricate patterns, its printing precision of 0.1mm ensures minute details and seamless surfaces. Gorgeous, durable prints are also made possible by the straight extruder and high-quality ceramic glass printing plate.
Accuracy
is always
our goal
The Longer LK5 Pro does not fall short when it comes of accuracy. With a nozzle diameter of 0.4mm and a printing precision of 0.1mm, it can produce exceptionally precise prints with layer resolutions between 0.1 and 0.4mm. With a maximum temperature of 100°C, the heated bed provides the best attachment and prevents buckling. A glass print sheet with a ceramic coating is also used by the printer; it offers a uniform surface for painting.
A
design
you can't ignore
Operating the machine is made simple by the 8-bit motherboard, which is a reliable and powerful component. Because it is open-source, the component can be modified to meet the needs of the consumer. People who desire to play with their printer's settings or add extra capabilities will find this to be particularly valuable. The present model functions much more effectively than the previous one.
A motherboard that is open-source also provides me the freedom to alter the firmware and G-code as necessary to adjust for different types of materials, geometries, or printing requirements.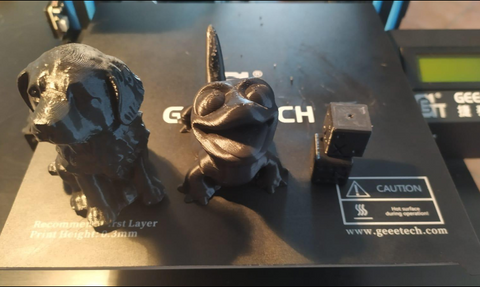 This is also exceptionally useful if you need to use your printer silently or for a while in order to accomplish a task. This means the action of printing is not expected to halt or produce bruit.
Your higher-level requirements will be met
The build dimension of 300x300x400mm offers enough room for printing complicated and large-scale patterns. This implies that you can now produce larger and more intricate products than you could before with smaller 3D printers. The lattice glass plate enables removal easier and flattens the hotbed, improving printing output. So this is also one of the most notable qualities of the Longer LK5 Pro.
Maximum consideration of user experience
Since 90% of the structure is pre-assembled, kicking off your printing assignments right away is effortless. It has an incredibly solid design thanks to stronger diagonal rods used in the machine's construction, allowing it inhibit vibration and increase print quality. Your prints will consequently seem more accurate and detailed and there will be less likelihood of errors or distortions. The 4.3-inch full-color touch screen of the Longer LK5 Pro is a further outstanding feature. The touch screen offers a user-friendly interface for viewing print data and managing the printer. The touch screen leaves it simple to adjust options and view real-time printing data so that you can monitor the outcomes and carry out adjustments as appropriate.
T
houghtful acceptance of errors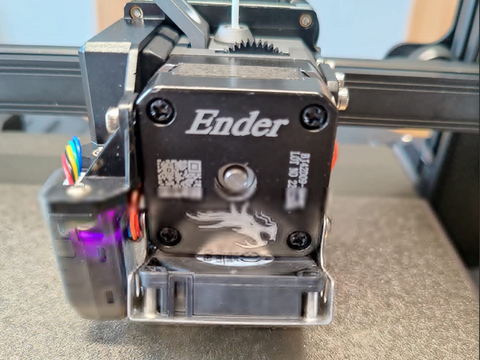 Clients who want to improve their 3D printing skills may get the Longer LK5 Pro 3D Printer since it has many flexible features. The dual blower kit, for instance, is designed specifically to cool the filament after extrusion and comes with the printer. Deformation or wire drawing may lead to insufficient prints, which is avoided by performing this. This attribute makes the images created substantially more suitable for printing. The printer is also quite adaptable, enabling users to alter a number of components to meet their demands. Operators can, for example, switch to a hotend model with warmer temperatures to print with more advanced materials or install an auto-leveling detector to simplify designing. Moreover, it is simpler to put in patches and replace specific elements as needed thanks to the printer's adaptable design and open-source firmware.
Despite I assume most people possess rich imaginations and creative skills, I am sure that still some of you will encounter some confusion when first interact with the machine. So I hope that the following imaginative suggestions may be useful for you.
Experience the joy of childishness
Making customized toys and figurines is a breeze with the Longer LK5 Pro 3D Printer. You may make extremely exact and intricate designs that are guaranteed to wow because to the big build size and precision printing capabilities of this printer. You have total artistic authority while using the Longer LK5 Pro to make toys and miniatures, which is one of its numerous advantages. You can construct your own characters from start or alter pre-existing ones to produce something original. Additionally, there are numerous designs that you can download and print from the internet. You may quickly print many different versions of the identical design while using the Longer LK5 Pro to make puppets and dolls. This is particularly handy if you intend to make a collection of toys or figurines to give as presents or sell.
A good helper for frugality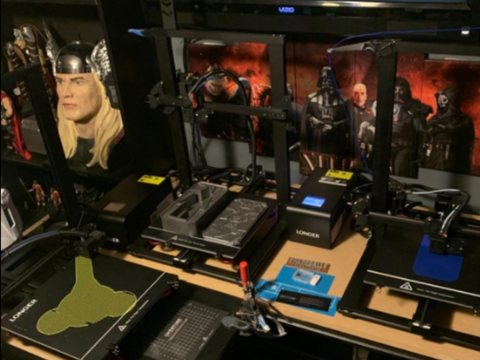 The Longer LK5 Pro's precise printing skills let it to produce repair elements of the highest caliber that are tailored to your unique requirements. You may easily design and print the part you require, whether you're seeking a new hinge for your cabinet or a replacement button for the oven. This is particularly pertinent for outdated or no longer produced products. With the Longer LK5 Pro, you may create an alternative component that is customized to your specific needs, prolonging the life of your mansion's furniture and machinery.
By the way, search no further than GearBerry if you're searching for a high-quality 3D printer. GearBerry strives to offer the best assortment of products to our clients at competitive costs as a leading online supplier of laser engravers. You may select the ideal laser engraver for your requirements from extensive selection of brands and models.
Conclusion
In a nutshell the Longer LK5 Pro 3D printer has fundamentally altered the way I create craft by giving me a space for unmatched inventiveness and aesthetic fulfillment. The Longer LK5 Pro is unquestionably something to think about if you're in need for a dependable and potent 3D printer. It's an instrument that can produce prints of superior quality fast and effectively thanks to its huge work surface, precision printing skills, and speed. It is a fantastic option for both new and seasoned 3D printing fans due to its user-friendly design and simplicity of usage. Even your most notable hopes will not be met, I promise!